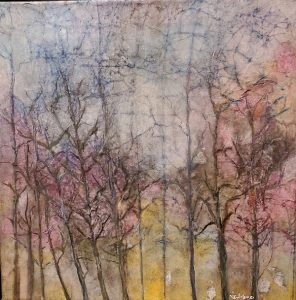 Masa paper is a type of rice paper. When it is wet and crumpled, then touched with paint (acrylic or watercolor) the darker colors settle into the crinkles and create a batik-like effect, but without the mess of wax.
This is a two-afternoon workshop available to ages 16+ and is on Saturday, 9/19/20 from 10:30 am – 2:30 pm, and Sunday 9/20/20 from 1:30 pm – 3:30 pm.
After a demonstration on Saturday, we will create magic!  Once dry, we will admire and plan our next steps. Will it be trees, rocks, flowers, an abstract?
On Sunday we will mount it on a heavier paper to finish the magic of Masa!
Supplies will be mostly provided for the class, however, bring your choice of brushes, and favorite acrylic and/or watercolors plus a stack of newspapers, a reference photo, and a sense of adventure!
Brown bag lunch or snack, and a plastic trash bag to carry things home will help too.
Please register by 9/16/20.  The cost is $50 for both sessions.