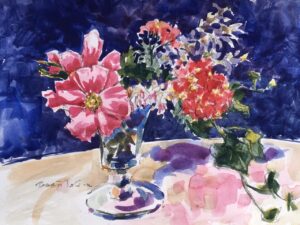 Brett LaGue is an award winning artist working in watercolor, acrylic & oils, known primarily for his paintings of the Virginia landscape.
This class is every Tuesday beginning June 14 – July 19.  Six classes to help artists at any level bring flower paintings to life. You start with simple shapes and end with creating cheery combinations of your favorite flowers! Learn now to create the illusion of soft florals with a minimum of detail and a maximum of enthusiasm. Full painting demos and lots help to see you on your way. Flowers provided for each class. This is a perfect class for anyone with basic watercolor experience.
The course is designed for watercolor beginners or those needing a little guidance.