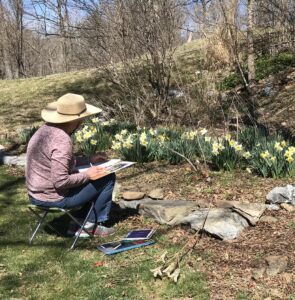 A 3-hour class designed to take the fear out of making art outside with a non-traditional twist.   Creating art outside is like putting together a wonderful meal ~ Judith Lochbrunner
Class 1 "Desert" – paint the fun part to begin with and savor the Main Course – lay out the design.
Class 2 "Soup" – Determine the Values (lights & darks)
Class 3 "hors d'oeuvre" – Crafting the finished painting & showing it off with good presentation.
Judith's love of plein air (outdoor) painting has combined her love of the outdoors with her love of painting. She truly appreciates that the landscape changes each day in beautiful ways to create endless artistic inspiration.  Here is a video of Judith on the class:  https://www.screencast.com/t/kuwaTpkOKT
Class dates: April 19th; May  3rd & 17th. This class will be limited to 8 students, and the cost is $125 total for all three dates. We meet promptly at AHACC at 10 am for each class orientation/restrooms/questions and will finish at 1 pm.
Art Supplies:
Viewfinder is a must – you can check YouTube videos on how to make one.
Folding easel at standing height or large foam core for your lap & towel to cover your legs.
Camp stool or folding lawn chair
Paint, or use markers, colored pencils, watercolor pencils, etc.
If needed a small, medium & large brush.
Paint palette- take-out shallow pan, egg carton (plastic or Styrofoam)
Container for brushes, or pencils, crayons, markers, etc.
8″ x 10″ (max) Painting surface (paper, canvas board, gesso prepared panel, etc.)
Personal Supplies: Hat with a brim to see color better; Sunscreen; Bug Spray; Water to stay hydrated; Paper towels for clean-up; Spring mornings start out cool-dress in layers.