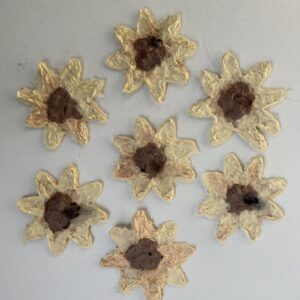 This class introduces students to plantable paper and all of the fun of using recycled materials to make beautiful Easter plantable paper.  With the guidance of Jennifer Galvin, we will be using recycled mat board to create Easter shapes embedded with seeds.  Even beginners will enjoy this workshop.  If you've been interested in learning how to work with plantable paper, this class is for you!  Jennifer will bring all of the supplies for students to make pulp and then make plantable paper.  Everyone will go home with a few plantable papers with seeds inside.
Feel free to bring your own cookie cutters if you want a particular shape for your plantable paper, otherwise, all materials will be provided. Class limit of 15 (13 to adult) and costs $25
Virginia based artist, Jennifer Galvin, reclaims discarded material and gives it new life-old t-shirts, jeans, and mat board are transformed into intricate works of art.  Jennifer has been making paper since 2002 and has a degree in art from Oregon State University.  Her love for making has gradually evolved to painting with paper-pulp painting. As the pulp becomes the painting, it is transformed into something entirely new-something beautiful out of what was once discarded.  Jennifer loves the hope that comes from giving objects a second life-seeing promise in the forgotten, hope from hopelessness.